Saturday, December 8, 2012
In December we run Almaden Quicksilver County Park known for impressive remains of mining equipment and other artifacts from mercury mines that date back to the gold rush. Al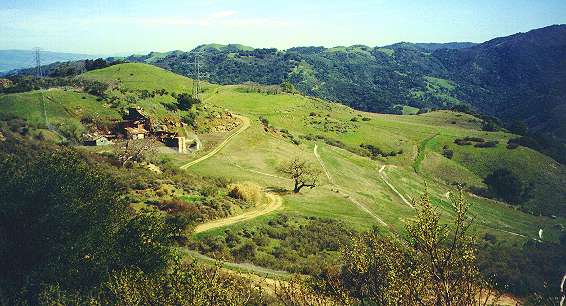 maden QS is a large park and offers a variety of trails some wide with open vistas, others on more challenging single track. And, as its in the South Bay, the cooler months are the ideal times to run Almaden QS.
When: Saturday, December 8, 2012. Meet at 8:20am for an 8:30am start.
Carpooling is encouraged: carpools depart at 7:45am from the Costco parking lot on Rengstorff Avenue in Mountain View near 101. Pls arrive 10 minutes earlier so that we can organize the rides. We meet in the area of the parking lot that is close to the McDonalds.
Where: Almaden Quicksilver County Park Mockingbird Hill Entrance, Mockingbird Hill Lane, Santa Clara, CA. There is no parking fee. More park info can be found in the park brochure or this very informative website maintained by friends of the park.
From Highway 85, take the Almaden Expressway exit south 4.5 miles to Almaden Road. Proceed .5 miles on Almaden Road to Mockingbird Hill Lane, turn right and continue .4 miles to the parking area. Google estimates the driving time from Costco to be 32 minutes (25 miles)

What: A long route of about 12 miles and an intermediate route of about 7 miles, each with a challenging amount of vertical. Printed trail maps (like the one below) will be available at the start of the run. The long route enjoys long stretches somewhat open contoured trail (Randol) on the way out and then the sheltered single track of the New Alamden trail on the way back. While both routes pass lots of mining artifacts, the intermediate route runs past almost all of the artifacts documented in the Almaden Quicksilver Historic Trail Guide.You might want to take a look at the guide before the run.
This is a remote trail run and each runner must carry at least one water bottle. To avoid having to search for lost runners, we will stay together in groups of approximately the same running abilities and distance interests.
As is our tradition, there will be a potluck after the run, so please bring food or drink to share. Simple healthy snacks and drinks are encouraged, but the indulgent treat will also be appreciated.
Contact: Ron Wolf
-- Click on map for high-resolution version --